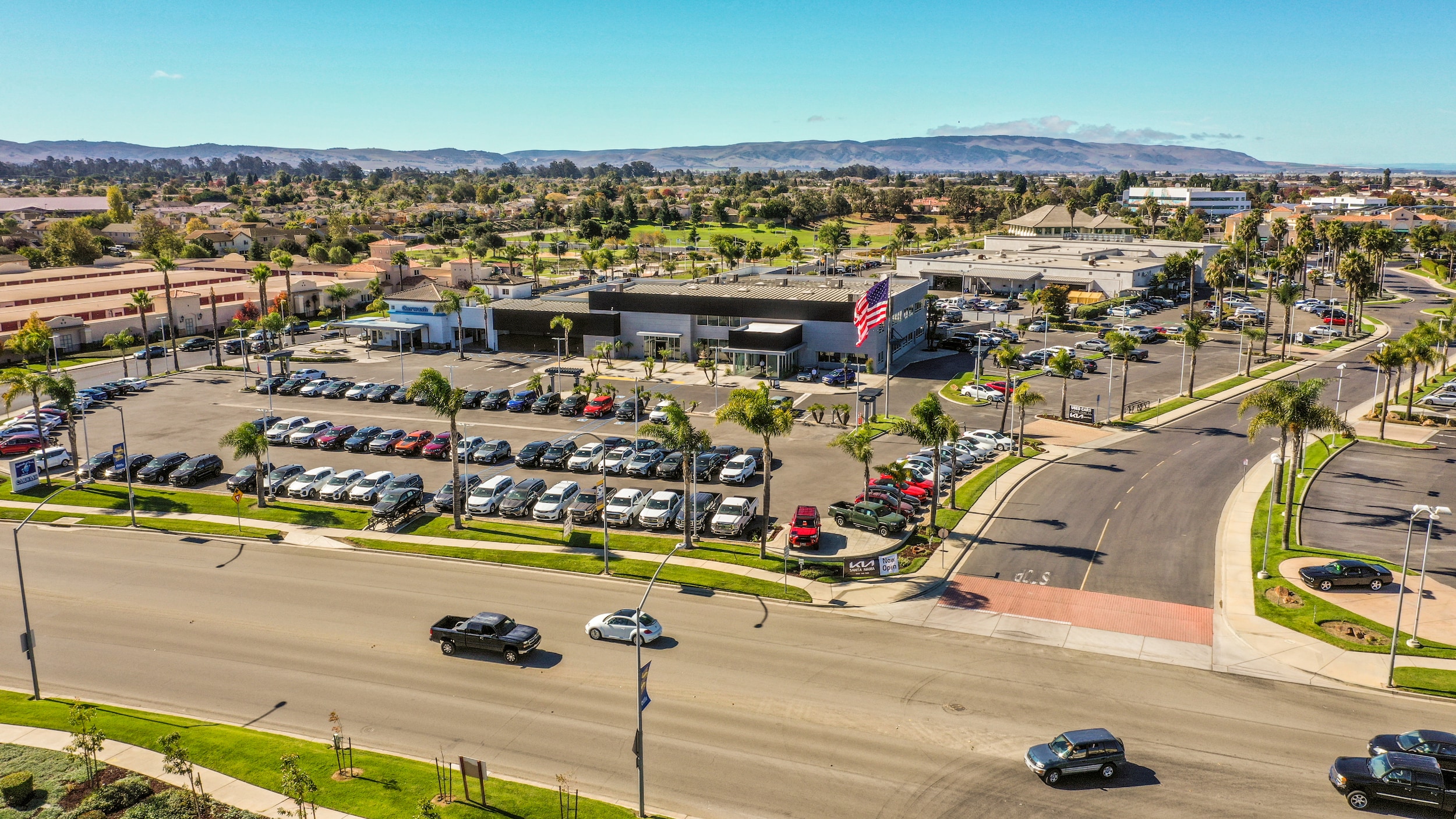 OUR MISSION STATEMENT
"To consistently exceed the expectations of our customers & associates so that Kia Santa Maria is recognized as the dealership and employer of choice on the central coast."

OUR CORE VALUES
ENERGY & ENTHUSIASM
We will create a positive environment that produces energy & enthusiasm throughout the dealership. The energy & enthusiasm will be obvious and contagious to everyone that enters the dealership (i.e., customers & associates). Energy & enthusiasm includes our actions and our words, the way we approach our daily responsibilities and the "hop in our step" as we do so. The Energy & Enthusiasm will continually drive the hunger in each of us to produce results. We commit to only hiring and retaining those that have genuine Energy & Enthusiasm. We understand that Energy & Enthusiasm is one of the 5 "unteachable" characteristics (i.e., CADET) that everyone on our Team must possess. "Energy Vampires" will not be tolerated - no exceptions. We will retain associates that genuinely like our business and enjoy what they do. We want our Team to have fun at work and to create an atmosphere that promotes this. We encourage our associates to live a healthy lifestyle and understand how this corresponds to Energy & Enthusiasm. A healthy lifestyle is one that is balanced and includes physical health, spiritual health and family health. We understand that emotions are contagious and that high performing Teams have more positive interactions than negative interactions. Teams that experience positive interactions at a ratio equal or greater than 3:1 are more productive and higher performing than those that don't. It is also proven that marriages with a 5:1 positive interaction ratio will be successful. We will create more positive interactions. We will praise more, encourage more, appreciate more, smile more, high-five more, recognize more and energize more.

ACCOUNTABILITY
We respect Accountability and understand that it makes all of us better. We commit to holding ourselves and each other accountable. This discipline applies to behavioral and performance expectations. We believe in having "Accountability partners" to help maintain our disciplines. We have "thick skin" when others are holding us accountable and we have the mind set of "make me better, I'm open, tell me how I can improve". We are responsible for our actions as well as the results we produce and we understand we will be held accountable for both. Good people and good processes are a winning combination and when something goes wrong, we will drill down and determine if it was our people or our process as both need held accountable. We commit to being solution oriented and not complaining or allowing others within the organization to complain. Complaining includes making excuses. The key to not complaining or making excuses is to take responsibility, not blame things on others and always offer solutions to any issue or problem that arises. Seeing solutions rather than obstacles is a key differentiator between being a winner versus a whiner. We will become brilliant in the basics and pay attention to getting the "little" things done consistently and done right the first time. We will hold ourselves and each other accountable to being disciplined in the daily basics and not make excuses when we are held accountable. Committing to daily disciplines, regardless of what we "want or like" to do, can be bothersome; however, we understand the cost for NOT committing to daily disciplines. We agree with the belief that… "When it comes to daily discipline, we all have 2 choices… either bear the pain of discipline or deal with the greater pain of regret later". We will create a big enough "Why" in order to help maintain this discipline. Being committed to daily disciplines means doing what you say you'll do, when you say you'll do it and how you say you'll do it - and doing so regardless if it is something you "want" to do. Every position will have documented daily disciplines so everyone on the Team is on the same page as to what is expected from each person EVERY day. We do not tolerate people on our Team that "drop the ball"; this includes not having to be asked to do something more than once and following through on commitments.

SERVANT MINDSET
We believe in the concept of being a servant in both our business and personal lives. We commit to applying a servant's mindset to our co-workers, those we manage and our customers. Some people are just naturally wired to care and genuinely WANT to help others; these are the type of people we want on our Team. We believe that if we help others get what they want then we will get what we want. A key measurement of success is based on the positive impact we have on others. We focus on what we can do "FOR" customers, not "TO" customers. When a customer or associate has a problem, we focus on what we CAN do, not what we CAN't do. We understand the difference of being an "other-centered person" as opposed to a "self-centered person" and we commit to hiring and retaining those that are "other-centered". Managers commit to Serving those we manage rather than expecting those we manage to serve us. Managers communicate with respect and never manage through intimidation. Managers praise in public and reprimand in private. We "listen to understand" and take a genuine interest in those we deal with. We approach each day and situation with the mindset of what we can do to make a positive impact and with a goal of helping others. We believe in being good corporate citizens by supporting the local community both as a company and individually.

INTEGRITY
We always do what is right, not what is easy, cheap, popular or convenient and we do so without excuse, regardless of the cost and regardless if anyone is watching. We have zero tolerance for lack of Integrity on our Team and will hold each other accountable without exception. Integrity is important with both each other and our customers. Our associates and customers must trust us and we earn this trust through our actions. Integrity includes paying attention to "how" we do our job rather than just focusing on the results. Integrity is similar to character and is one of the "unteachable" characteristics that individuals typically either have or don't have. Our actions and our words demonstrate respect at all times with our associates and customers. Honesty is a key part of Integrity and this includes never lie, cheat or steal.

EARN & DESERVE
We believe that, in business and life, we are entitled to what we earn and deserve as opposed to feeling that others "owe" us. We understand what is expected of us and that we are evaluated based on the results we produce and how we produce them. The organization genuinely appreciates loyalty. Loyalty doesn't entitle us to receive things if the results we produce are below expectations. Loyalty entitles us to take advantage of opportunities such as advancement and compensation that become available based on the results we produce. We believe in constantly improving all facets of our business and personal lives. We will stay humble and hungry with our success and we are committed to remaining teachable so that we never allow ourselves to believe that we have "arrived". All of us are expected to work as hard on ourselves as we do on our job. We commit that getting better is not an option. Rather than believing "if it's not broken, don't fix it" we believe "if it's not broken, make it better". We foster an environment that promotes growing and developing those within the organization and providing opportunities for advancement with a goal of promoting from within rather than hiring from outside the organization. We commit to having a "red belt mentality" and not becoming complacent in anything we do and understand that the "enemy of great is good". Respect is also something that is earned. Respect is earned through our actions and current results as opposed to what we say or results we produced in the past.

SENSE OF URGENCY
A Sense of Urgency means that we serve one another and customers quickly and find reasons to do things NOW, rather than to delay, debate or procrastinate. We MAKE things happen rather than waiting for things to happen and each of us acts as a catalyst to make sure we don't get complacent in this area. When it comes to helping customers, we drop what we are doing and act like it is a fire drill so the customer is never inconvenienced or forced to wait for us. We are committed to processes that make us extremely easy to do business with to the point that our customers feel like they are receiving personalized service with every interaction. Sense of Urgency with each other means we have candor and will confront productive issues with each other immediately and with transparency. We will have a Sense of Urgency in making both the easy and difficult decisions we face. Our decisions will be thought out, but we will execute with a Sense of Urgency.

TEAMWORK
The good of the Team comes before the personal comfort or agenda of any individual Team member. Our various departments and associates are all part of the same Team and we commit to working together through cooperation and synergy to promote a successful working environment that leverages all of our strengths. We are committed to making each other successful rather than tearing each other down to make ourselves successful. Great Team players always put the Team first. We will all work hard for the Team. We will develop ourselves for the Team. We serve the Team. We don't take credit; we give credit to the Team. Great Team players are humble. We are willing to learn, improve and hold each other accountable. We push, challenge and stretch each other to be our best. We believe in transparency and candor within the Team and we do not condone "hidden agendas". We are open to feedback and suggestions from our Team members and we don't let our ego get in the way of our growth or the Team's growth.